Architecture is a visual art, and the buildings speak for themselves.

    —Julia Morgan
The Loghaven Artist Residency has been a passion project in every aspect of its creation, from land conservation and historic preservation to the design and construction of new buildings. The Residency has partnered with the award-winning Sanders Pace Architecture for the rehabilitation of the historic Loghaven cabins and three new buildings coming soon to the site.
The Loghaven gateway building is currently under construction and will act as a central gathering place for resident artists. This 3,700 square foot structure shares a similar visual language with the surrounding cabins, while elevating traditional building materials to create a beautifully restrained and contemporary addition to the campus. The gateway building will host nightly meals in a dining area featuring a large fireplace and soaring ceilings. The building will also house the director's office, a small gallery space, and a multidisciplinary studio designed to accommodate a variety of artistic disciplines.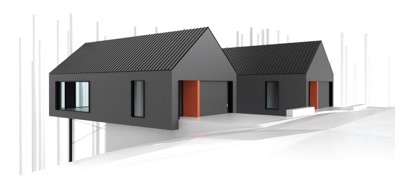 Construction on the two freestanding studio spaces will begin in February 2019. The studios will be cantilevered over the site and will incorporate eight-foot tall windows looking out on the forested hillside below. One studio, designed for performing arts, will include an 860-square-foot sprung floor, a sound system, and an abundance of natural light. The visual arts studio is of a similar size and has both natural and directional light, a separate wet area with oversized sink and exhaust, and an enlarged loading door.
Together, Loghaven Artist Residency and Sanders Pace Architecture have designed new structures around artists' needs while taking into consideration land conservation, preservation of the historic site, and an appreciation for architecture as a visual art form. We look forward to welcoming artists into these new spaces at the end of 2019.
For more information about Loghaven studio spaces and equipment, please see the Facilities page of Loghaven.org.